Blog
December 4, 2014 by Avi Staiman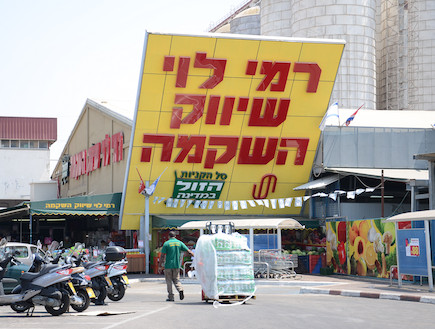 I enjoy my trips to the supermarket in the small industrial zone tucked away on one of the slopping hills of the northeastern suburb of Jerusalem, Maale Adumim. Aside from the thrilling search for the latest sales, the occasional who-was-in-line-first shouting match at the deli counter, or the short prayer that they stocked my daughter's diaper size, there is an encounter I look forward to every time I walk through the doors. And it has nothing to do with shopping.
In this suburban "West Bank" city, the largest shopping market, Rami Levi (Jewish owned), employs a large number of Palestinian Arabs in positions ranging from bag boys to directing managers. The staff comes from the neighboring towns of Issawyia, Azzariah, Jahalin and other smaller villages in the vicinity.
My bi-monthly trip is one of the rare opportunities I have to interact with the men and women who live one town over (across the street in some cases).  The encounter is brief and light, but it's also real, ordinary and spontaneous. And while asking where the tomato sauce has been moved to, can hardly be considered peace talks, it is a real interaction that leaves me wanting more.
As I step into line at my favorite checkout counter and approach the Arab cashier, my mind starts to spit out unfiltered questions: What does he think of me? What do I think of him? Am I justified in being cautious and wary in his company? Does he fear me for something that has happened to him or someone he knows? Is he thinking about the same questions that I'm thinking about?
However, as time passes I realize that I am asking myself the wrong questions. The question I should be asking myself is not what we are thinking, but rather how can we can go about changing how we think and the impressions that we make.
So with my best ahlan (Arabic for hello), a warm smile and a little extra chit chat than my norm, I pass through the queue hoping that I have somehow left an impression. While I wouldn't go as far as calling my supermarket a model for co-existence, it is the most real, natural and consistent chance I have for real interaction with the so-called "other side".
Last night, I drove to my supermarket for a different reason. A close friend of mine had been caught hours earlier with his two year old daughter at the store in the thick of a stabbing attack, where a terrorist went on a stabbing rampage and two individuals were hospitalized with upper body wounds. My friend hurriedly fled the scene, jumping into a car with a stranger to flee the mayhem.
Upon bringing him to the supermarket to pick up his car that he left behind, he showed me how he managed to run out the back exit, and maneuver himself and his daughter over an eight-foot-high steel fence to protect them both and bring them to safety.
Having rehashed the scenario to me and wanting to be home with his family, my friend hopped into his car and drove away. Once there, I figured I may as well pick up a few items we needed at home. Walking through the doors into the store, which had been freshly mopped from the blood on the floors, there was a palpable tension in the air. Shoppers and staff alike seemed on edge, calculating their actions and weighing their words.
So I did the only thing I could: I picked up my groceries, stood in line, smiled and chatted with my cashier, and drove home.
My friends to the right will tell me that last night's incident proves that my desire for interaction is naive and dangerous, while my friends to the left will say that I have no business being there in the first place. However, I still believe that my supermarket is exactly where I am supposed to be.
Avi Staiman is an intern at Makom.