The online version of this article is abbreviated. To see the full text, hover the cursor over the lines in bold, and a text box will appear.
We need to talk about Israel.
Too often it seems that our conversations about Israel are either too cerebral to be meaningful, or too passionate to be intelligent. We need to be able to bring both our heads and our hearts to bear. This is no easy task, as we face at least three challenges.
Tent or Tank?
How can we easily delineate the parameters of the tent, making it a Middle Eastern kind of tent – that has defined edges, but that is open to all sides?
Universal/Particular
How can we speak in universal terms without losing our own particular authenticity?
Simplifying Complexity

Finally, can we sum up the complexity in a simple way that isn't simplistic?
At Makom, the Israel Education Lab, we believe we have something to offer. An approach and a program that addresses all three of these challenges.
Let's start from the universal. We would suggest that there are four questions underlying all conflict in the world…
1. One driving question underlying most news headlines is "How do we keep safe?"
2. The second question is: "Who are We and how should We behave?"
3. The third question is simple, but growing increasingly complex: "How can we be free?"

4. Finally, as we are seeing that the questions of home, homeland, and territory has returned with ever-increasing urgency, we ask "How do we make a place our own?" 
Often the most burning issues draw on all four questions together. As refugees desperately seek safety in Europe, and Europeans ask themselves what is their distinctly European response as well as their national response, while the principle of freedom of movement is suddenly in question, and borders represent a moral challenge – we can see that addressing these four questions is a way of speaking to the world, not just to Jews.
From Universal to Jewish
What is the Jewish way of wording these crucial universally-shared questions?
We at Makom add a question-mark to the four Hebrew words that make up the penultimate line of the Hatikvah Israeli National Anthem:
"To be" asks questions of Safety and Security. "People" asks about who We are and how We should behave. "Free" asks about Rights and Responsibilities, and "In Our Land" asks questions of home, homeland, and borders.
Before breaking down how these four questions play out in an Israeli context, let's consider the four words as a sentence. "To Be a People, Free In Our Land" is something of a consensus aspiration. 
In this language of liberal national aspiration, Israel is the embodiment of being the People of Israel, Free in the Land of Israel. There is also significant international support for the Palestinians to be a Palestinian People Free in the Land of Palestine.
Anyone who does not agree that we have the right to be the People of Israel free in the Land of Israel, is "outside the tent".
Rather than excluding some, this construction allows us to understand and include many more people "inside the tent", and to dialogue far more constructively with those outside.
Here the Four Hatikvah Questions (4HQ) come into their own.  For while we can expect those "inside the tent" to agree with the sentence, we don't have to reach consensus on the answers to the questions!
To be? All of us inside the tent agree that Israel should exist. But we do not all agree on the way we should define an existential threat. It is entirely legitimate to argue about the best means to defeat or neutralize a threat, and we are bound to continue to question whether or when we are free to disregard a threat and to just be..
The Jewish People? It would be impossible to be "inside the tent" of pro-Israel discourse without acknowledging the centrality of the Jewish People to the enterprise. But it is completely fair to question the way in which Jewish tradition and religion plays a role in modern Israel. Questions of social solidarity within Israel, and between Jews throughout the world will always be ongoing policy questions. And the way in which the Jewish People should relate to people who are not Jewish will rightly resonate throughout our moral considerations. The fact that we might argue on this question does not make us anti-Zionists…
Free? To imagine a State of Israel that is not democratic is anathema to real lovers of Israel. But questions of pluralism,  electoral systems, of how ongoing control over areas East of the Green Line affects our democracy, questions of human rights, creativity, innovation – these are the kind of questions that keep us alive!
In Our Land? The days of considering the Uganda Plan are long gone – Israel must be located in Biblical Israel. But which part? How large a part? With access to other parts? What makes a homeland? These are all legitimate, live, and crucial questions.
The Zionist enterprise can be defined as the ongoing drive to implement ever-better answers to these four questions of Hope.
When it comes down to it, the Israel conversation is made up of four questions.
The Four Hatikvah Questions.
4HQ.  The Four Questions of Hope.
4HQ is a simple way to contain the complexity that is Israel. It is universal yet particular, and it offers a constructive approach to the "Big Tent".
How can we put 4HQ to use?
A Thinking Tool
First of all, 4HQ is a way to listen to Israel conversations, and a way to think clearly about Israel issues. What is she saying? What is he shouting about? Listen for which of the underlying questions they are asking, and address them. The conversation will be far richer, far more constructive. When the latest headline screams across the Washington Post or New York Times, see where it addresses which of the Four Hatikvah Questions. Is it about existential threat? Is it about being Jewish? Is it about democracy? The Land?
A Mapping and Planning Tool
When looking at a calendar of events, ask yourself whether you are covering all four of the questions? If you notice a weight on questions of security and land, with little addressing freedom, perhaps your programming has a right-leaning bias. If freedom dominates your agenda, with no acknowledgement of threats, then the chances are you are leaning left-wards! Programming that wishes to both represent the fullness of Israel, and the breadth of your community's connections to Israel, should attempt to address all four questions.
An Aid to Celebration
When we celebrate Chanukah, or Pesach, there are one or two texts, a few traditions, that we can easily refer to every year. But Yom Ha'atzmaut? What exactly is it that we are celebrating? For the first time in two thousand years, ever since May 14th, 1948, we have been able to answer all four primary questions of hope with a resounding "Yes!" Do we exist? Are we a living breathing People? Do we rule ourselves democratically in the Land of Israel? Yom Ha'atzmaut is the day to celebrate the fundamentals.
A Response Tool
When the latest hot topic comes burning across the media, and the community looks to you to convene a conversation in response, we tend to look to 4HQ. For example, when Prime Minister Netanyahu came to speak to the U.S. Congress, some communities wished to watch a live screening of the speech, and then sit around tables to talk about what they saw and heard. We at Makom provided them with discussion table mats, presenting key questions in the framework of 4HQ.
Makom training in 4HQ
Tools are one thing, but learning how to use them is another thing entirely!
Makom can come to you and run short or in-depth customized training for your staff, lay leaders, and/or para-professionals.
We can offer 4HQ training as a component of your trip to Israel, and/or build for you a a 4HQ-filtered tour of Israel.
You can turn to us for source materials, discussion guides, etc, according to your needs.
For more details please contact Robbie Gringras,
Makom's Creative Director, on robbieg [at] jafi [dot] org
In collaboration with the Rabin Center, top Israeli band HaDag Nachash have just released a brand new song for Rabin Memorial Day.
Entitled "What would have been if?" the song remembers and laments.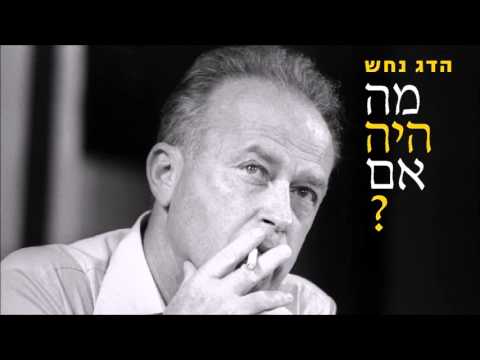 Here is our translation, officially endorsed by the band:
The past we know, some of us even remember
How a few moments after the end of the speeches
We were all as one fixed to the receivers
Until the message reached our ears – and left us without words or utterance
And with a slightly bashful glance we were sucked back into the cycle
Of wounded and licking and wounded and flogging – like a wave
But you should know, that there are moments
When I see high above the Cypress trees
And above the heads of my exhausted People
A bubble floats and inside three words:
"What would have been if?"
The present is known with no need to expand
How it drains and shakes how it pressures with no quiet
And how every winter we race after the left-overs of the left-overs
Because maybe in the summer we'll be running to the bomb-shelters
But know that there are moments
In which I see high above the Cypress trees
And above the heads of my exhausted People
A floating tear and inside three words:
"What would have been if?"
And our untrustworthy future what does it have in store
What more can it bury
Your Six Days blossomed a hundredfold
And nowadays not only we declare victory
And to think that you had the courage to change
And to think you knew how to plant hopes
And to think that you raised up to fly and went far enough to see
And to think that you managed to understand:
"What would be if…?"
[Cross-posted with Times of Israel]
After this last week, walking through Jerusalem as if tiptoeing through a firing range, it was good to return home to the Galilee.
Here in the Galil, I am reminded that the old adage, "Don't sweat the small stuff!" doesn't always work in Israel. Quite the opposite. If I start worrying about the big picture, about the Palestinians, about the delicate social structure of multi-ethnic and multi-religious Israel, about ISIS and about Iran… It's not easy to find solutions or even comfort.
Today I sweated the small stuff.
Much better.
This morning my daughter and I picked up two elderly hitchers, a man and his wife. They had been picking olives on their land, and were returning home with buckets and plastic bags full.
It was tough.
The old lady enthusiastically pushed a gift of a bag of olives into my daughter's lap, giving her a careful and swift explanation as to how to turn them into oil.
We sweated.
For although my daughter's Arabic was good enough to work out how many days to soak the olives, and with what ingredients, one word – accompanied by vigorous hand-gestures – evaded her. We parted with many thanks but no idea as to the key action required for the oil. It wasn't until we reached a good internet connection that we discovered that she had instructed us to shake the bag of soaked olives, and not to crush them. Same kind of gesture…
It was touch and go for a while, but we made it through.
Then this afternoon we went for food. My brother had come to visit from the UK after a short academic conference in Israel. They'd been culinarily so spoiled during the conference that he was desperate for a falafel. We went to my old haunt. Two Arab guys from Dir El Assad, working from the old center of Karmiel. They were happy to see me, and were very gracious to my brother, until one of them found out that we hailed from Manchester, England.
His face clouded over. My face clouded over. We sweated.
For him to meet two fans of Manchester United soccer club, when he was a passionate fan of Bayern Munich (a team Manchester United had famously beaten in the 1999 European Cup Final), was very difficult for him. The bitterness of a historical defeat hung painfully between us as we sat, munching into tahini-soaked falafel in the heart of the Galilee.
He and I still giggled a lot and had a hug goodbye, but it was close.
Back home on Tuval, my brother and I faced the final test. Sitting in the visitor's center of Jonny Stern, tasting his boutique wines. The grapes had been picked from Tuval's fields, the wines had won awards throughout the world, and we were in a bind. Which wine to choose for tonight's Friday night meal, when every single wine we tasted had won some Golden Cluster award from some wine festival around the world?
We sweated.
We sweated the small stuff all day.
It felt good.
(We plumped for the Cabernet Sauvignon Reserve…)
I'll admit that there has been little leading up to Rosh Hashana that leaves me looking forward to the New Year. The extremities of Climate Change, the extremities of Middle Eastern conflicts, the extremities of poverty, refugees, and public discourse.
And then, galloping in on its White Horse, Israeli popular culture comes to lift me up once more. I have been translating Israeli popular music for over a decade now, but today I celebrate the fact that Israel's Song of the Year is untranslatable.
The song "Sweet when I am Bitter" is such a delightful reggae swing through the cutest of Hebrew word play, that it is no wonder it won the listeners' award on top radio station Galgalatz.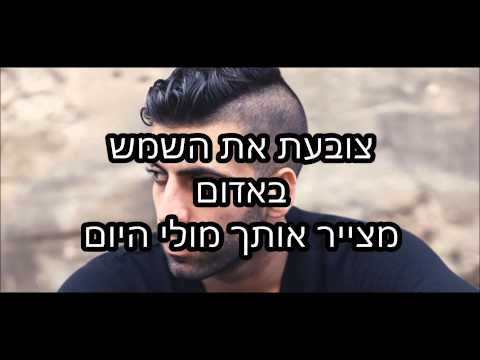 Throughout the song, Eliad Nachum strings together a hidden list of top music stars, like a musical word puzzle of Israeli popular culture. The chorus in particular is a delight.
A direct English translation would have you understand that Eliad is praising his girlfriend while referring to a friend of theirs called Bob: "You create sweetness like Bob, when I am bitter." But the word "bitter" in Hebrew is "Mar", and "Li" indicates the bitterness is mine. In this way we can hear that the Hebrew is hiding the iconic reggae star: "BOB, ksheMARLEY"
As well as playing with pop stars, Eliad touches on the bible, too. "Just tell me, and I'll run into the (lions') den" he proclaims. But while referencing the Book of Daniel, he also gently plants a tribute to beloved performer Gidi Gov: "Rak taGIDI ve'arutz el toch haGOV"
The whole song pays tribute to HaDag Nachash, Eyal Golan, Dudu Tasa, Nomi Shemer, and many more.
I could have done one of Makom's standard video translations, but more would have been lost than captured.
I think this is cause for celebration.
Hebrew culture has now reached such a thickness that even the hit parade is too dense to be easily translated.
Shana Tova!
Cross-posted with ejewishphilanthropy
Yom Ha'atzmaut? Again? This year of all years?
Whenever I approach Yom Ha'atzmaut with a sinking feeling, I always remember the point made by Professor Yosef Klausner:
"For three hundred and sixty-four days of the year we are busy with criticism. We criticize the nation's priorities, and the nation's leaders. We count the many mistakes that our leaders and ministers make… But a nation must have one day in a year that is a real celebration. On that single solitary day, all the prosecutions must cease, and the harsh criticism must stop…"
Klausner wrote these words back in 1953, when the State of Israel was only 5 years old!
So what is it that we should be celebrating on this one day?
Ideally Yom Ha'atzmaut should mark one of the most significant events in Jewish history. It is an event packed with meaning for Jews throughout the world, not just in Israel.
But what is the nature of that "meaning"?
We can't even come up with a shared narrative.
When does the Israel story begin? 1948? The Dreyfuss Trial? The destruction of the Second Temple? Abraham's journey?
Would you say that the Holocaust should be part of our Yom Ha'atzmaut narrative? If you have an unequivocal answer to that question, I assure you that you have a friend who would answer the opposite.
At Makom we would say that the meaning of Yom Ha'atzmaut can be encapsulated not through a narrative, but through the Four Hatikvah Questions.
For the first time in two thousand years, ever since May 14th, 1948, we have been able to answer all Four Hatikvah Questions with a resounding "Yes!"
To Be? – Yes!
Peoplehood? – Yes!
Free? – Yes!
In Our Land? – Check!
In this brilliant illustration, Shay Charka marks the nine-day roller-coaster between Yom HaShoah, and Yom Ha'atzmaut. Just imagine what answers we might have reached to the Four Hatikvah Questions in 1945…
Do we now share questions about threats to our ongoing existence? Certainly. The desperate arguments will wait for one day.
Do we disagree about the ways in which our heritage, solidarity, and values are expressed? Sure. Let's put the disagreements on temporary hold.
Are we concerned about Israel's democratic structures and discourse?
Do we agree on the borders of our Land? On relations with the Palestinians, who say it is their Land too?
All crucial questions. We'll talk about them on the other 364 days.
Imagine a Yom Ha'atzmaut celebration that chose to focus on these four blessings. The songs, the dances, the speeches, the parties, the performances, that celebrate the four-fold answer of "yes".
Yom Ha'atzmaut is the day on which the Four Hatikvah Questions turn into exclamation marks.
This is the way the elections promises line up so far. With over a month to go, it is interesting to see where Israeli politicians are putting their mouths, so to speak.
As we know, election campaigns are generally focused on persuading the floating voter, and so parties often talk less to their home crowd and more aim to impress newcomers. As such, this laudable open source initiative is revealing. The chart above is taken from the ongoing google sheet, to which the public is invited to report politicians' promises.
In terms of our 4HQ approach, we can see that the vast majority of the promises live within the People/Free areas. 35.5% of promises address economic welfare issues, 13% talk about lowering the costs of housing, and another 2.4 % talk of medical care. Add to that the face that nearly two-fifths of the coalition demands (which make up 20.2% of all promises) also address socio-economic issues, this means that well over half of all election promises made are on what in Israel are known as "chevrati" – socio-economic issues.
Only 6% of promises would fit into the security/peace deals category, compared with 11% of promises addressing corruption and good government. About a third of promised legislation addresses Jewish People issues, such as conversion, the rabbinate, and Haredi conscription to the army – round about 6% of all promises.
So according to promises so far, here is our 4HQ chart of election promises!
The Labor/Tnuah combo has chosen to call itself the Zionist Camp.
Contrary to popular belief, this is not a boutique clothes shop in Tel Aviv, but a political party with serious intentions. Their first introduction to the Israeli public is in this short video that begins with Herzog challenging: "Zionism? Let's talk about Zionism!"
Soon thereafter this very video was "altered" by the opponents of the Zionist Camp.
We present both videos for you, parsing them through the filter of 4HQ, the Four Hatikvah Questions –
I must emphasize before beginning that these are my personal readings of the videos, hence this blog is under my name not Makom in general. We'll all be having a go at this game in the coming few weeks – and you are also invited to add your reading to the comments below!
This is one of my poems. Dedicated to my partner, who celebrates his birthday this week. We are celebrating five years of acquaintance, and four years since he told me he loved me.
The eighth candle of Hanukkah. A candle of rain outside, of joy in the home, of faith in general, and of faith in love in particular.
Love is Hard Work
If you see one Rainbow
The second rainbow will show immediately
You said you love me
And if the second rainbow will show
so will the third
You`ll keep loving me
Even if I am fired.
It was raining in Tel Aviv
And Jerusalem kept dry
The price of the petrol just rose
But rainbows are for free.
And love is hard work.
וְאִם קֶשֶׁת אַחַת תּוֹפִיעַ
מִיַּד תַּעֲלֶה הַשְּׁנִיָּה
וְאָמַרְתָּ שֶׁאַתָּה אוֹהֵב אוֹתִי
וְאֵם  תעלהַ הַשְּׁנִיָּה תּוֹפִיעַ גַּם
הַשְּׁלִישִׁית
וְגַם אִם יְפַטְּרוּ אוֹתִי
עֲדַיִן תֹּאהַב אוֹתִי
וּבְתֵל אָבִיב יָרַד גֶּשֶׁם
וִירוּשָׁלַיִם יְבֵשָׁה
וּמְחִירֵי הַדֶּלֶק עָלוּ
אֲבָל קֶשֶׁת זֶה בְּחִנָּם
וְאַהֲבָה זֶה
הַרְבֵּה עֲבוֹדָה
One of the more painful weeks in Israel began with the horrific murder in the Har Nof synagogue of three people at morning prayer. It concluded with the response-song by Amir Benayoun.
Benayoun is a talented and powerful singer – religious, Mizrachi, tortured and original. He is so respected that the new President of Israel invited him to perform at the President's residence for an event commemorating Jews from Arab Lands.
Straight after it was discovered that one of the Har Nof murderers had worked for years at the grocery store just round the corner from the synagogue, Amir Benayoun recorded a song. Called Ahmed, it is seemingly "sung by" an Arab called Ahmed. The chorus goes:
It's true I'm just ungrateful scum
It's true but I'm not to blame –
I didn't grow up with any love
It's true that the moment will come
when you turn your back on me
and then
And I'll stick a sharpened axe in it.
It was clearly a cry of pain, with no small amount of deep confusion (the musical style of Benayoun's singing is so Arab!). It was also an ugly piece of racism. Benayoun's defence that the song was about one particular person and not all Arabs simply didn't hold water.
Israel's President, right-wing Reuven Rivlin, did not hesitate. He immediately cancelled Benayoun's participation in the festival at the President's residence. And stated very clearly that it was because of the song.
I light my final candle of hope for my new President, who is committed to bringing light into the darkness.
It's reality TV. But not like you've known it.
To be honest, I don't know – perhaps the ingenious format of "Connected" is a well-known format outside of Israel, too – but its incarnation in Israel is fantastic.
Each season a group of unconnected interesting, fascinating, sometimes famous people, are given a camera or two for a month or so. They film themselves all the time, interacting with the camera as they would to a very personal video diary, or a running stream of consciousness.
None of them meet – they are in different worlds. One might be a stand-up comedian, another a writer, another the unsuccessful daughter of a successful TV presenter – the connections are made in the editing room. Each episode is themed, and the editor jumps us from character to character, exploring the theme.
It's not cheap. It's not sensationalist.
It doesn't (seem to) create monsters to hate, or freaks to ridicule. On the contrary. We see the humanity, the tenderness, the hilarious, and the challenges of real life.
This season I'm in love with the sensitive, unstable, vulnerable and gifted Lior Dayan, son of actor and director Asi Dayan (whose death we experience through the eyes of Lior in one episode – see photo), and grandson of Moshe Dayan. I loved the bit when he's playing with his baby son who pokes him in the eye, "Don't do that. We have a thing in the family about eyes," says his father patiently.
Seventh season of Connected: Seventh candle.