Blog
August 2, 2016 by Makom
We are currently in the middle of the period of the Three Weeks between the 17th of Tamuz and the 9th of Av, also known as the period of "Bein ha-Metzarim" ("Between the Straits"). Many of us can relate to the increased sense of panic, worry, or uncertainty. Between terror attacks around the world, political shifts, and baseless hatred between people and groups – it can be felt wherever you turn. How can educators and leaders address this?
In this educational session, we offer several sources, quotes, and guiding questions, which help us reflect and introspect during troubled times. This program can be used as-is in summer camps, synagogues, learning groups, or at home. Alternatively, one or more sources can be used as a trigger to something else or as an introduction to a Dvar Torah or reflection session.
Wishing our People a time of thoughtful reflection and introspection.
Click Here to download a printable PDF of the session 
 Illustration from Brockhaus and Efron Jewish Encyclopedia (1906—1913)
What Happens to a Society in Times of Trouble?
Five things befell our ancestors on the seventeenth of Tammuz and five on the ninth of Av. The seventeenth of Tammuz the Tablets were broken and the eternal light went out, and the city was breached, blasphemers burned the Torah and placed an idol in the sanctuary. On the Ninth of Av it was decreed against our ancestors that they would not go into the Land, and the Temple was destroyed the first time and the second time, and Betar was taken, and the city was ploughed. When Av enters rejoicing is lessened.
"Fourth Letter" by Moses Hess, from his book Rome and Jerusalem (1862):
My pious grandfather was one of those revered scholars who, though not using the Torah as a means of subsistence, yet possessed the title and knowledge of a rabbi. Every evening, at the close of his business day, he spent several hours in studying the Talmud and its commentaries. But in the "Nine Days" [of mourning leading up to the commemoration of the destruction of the Second Temple on Tisha B'Av] this study was interrupted, and instead he read with his grandchildren the stories and legends concerning the exile of the Jews from Jerusalem. The tears fell upon the snow-white beard of the stem old man as he read those stories, and we children, too, would cry and sob. I remember, especially, one particular passage which impressed us both deeply. It runs as follows:

"When the children of Israel were led into captivity by the soldiers of Nebuchadnezzar, their road lay past the grave of our Mother Rachel. As they approached the grave, a bitter wailing was heard. It was the voice of Rachel, weeping at the fate of her unhappy children."
Do these stories make us want to cry?
Does the crying of adults make us feel this way?
What are the adults crying about?
Meir Tzvi Grossman, "Al HaMoadim", 50 Conversations on the Bible and Rabbinic Literature
"A time of trouble unto Jacob" (Jeremiah 30:7) Yet it is not said "Disaster" rather "trouble" and trouble means something different from Disaster. Disaster denotes a tragic and saddening event, a one-off. But a time of trouble signifies a period of suffering that may often last a long time. It is natural that such a period will arouse responses among those suffering, that are different from those that might arise from a disaster, and also after a disaster the public awakens and checks its causes and discusses how opportunities to avoid it might have been missed. It is even possible, that one may search for calming ways to move past the sadness, the grief, the depression, that result from the disaster. But "trouble" – will be met with different responses. In addition to checking what causes led to the trouble, there will appear – as long as the trouble continues – protest movements, calls to rebellion will be heard, and schools of thought will develop that wonder and doubt. At the same time a process will emerge of scrutinizing deeds and checking ways to escape from the trouble. It is possible that at this hard time many will be caught up in an atmosphere of despair, destructiveness, and depression, and they will begin to accommodate themselves to live in troubled times. An acceptance of the new situation will gradually take its central place.
How do we as human beings deal with "Times of Trouble"?
How do we respond in the eyes of Grossman?
During contemporary troubled times, communal prayers or communal gatherings in support of protests and demonstration of solidarity are often organized. Why? Does this resonate with you?In many places in the Jewish tradition moral and religious reasons are given for the destruction of the Temple and the Exile.
Tractate Shabbat 119b
Abaye said: Jerusalem was destroyed only because the Sabbath was desecrated therein, as it is said

Abbahu said: Jerusalem was destroyed only because the reading of the shema morning and evening was neglected…

Hamnuna said: Jerusalem was destroyed only because they neglected [the education of] school children…

R' Ulla said: Jerusalem was destroyed only because they [its inhabitants] were not ashamed of each other

R' Isaac said: Jerusalem was destroyed only because the small and the great were made equal…

Amram son of R. Simeon b. Abba said in R. Simeon b. Abba's name in R. Hanina's name: Jerusalem was destroyed only because they did not rebuke each other…

Rab Judah said: Jerusalem was destroyed only because scholars were despised therein…
Tractate Gittin 56a:
He then sent against them Vespasian the Caesar who came and besieged Jerusalem for three years. There were in it three men of great wealth, Nakdimon b. Gorion, Ben Kalba Shabua' and Ben Zizith Hakeseth. Nakdimon b. Gorion … One of these said to the people of Jerusalem, I will keep them in wheat and barley. A second said, I will keep them in wine, oil and salt. The third said, I will keep them in wood… These men were in a position to keep the city for twenty-one years… The Rabbis said to them: Let us go out and make peace with them [the Romans]. They would not let them, but on the contrary said, Let us go out and fight them. The Rabbis said: You will not succeed. They then rose up and burnt the stores of wheat and barley so that a famine ensued.
Who is the enemy?
What is the dynamic between internal conflicts and external conflicts?


A Prayer for Peace by R. Nachman of Breslav
May it be Your will, Adonai our God and God of our ancestors,
that You abolish all wars and bloodshed from this world
and extend a great and wonderful peace in the world.
Nations shall not lift up the sword against one another,
neither shall they learn to make war any more.
May all the inhabitants of this universe
acknowledge the one great truth;
that we have not come into this world
for friction and dissension,
nor enmity and jealousy and vexation and bloodshed.
We have come into the world solely
that we might know You,
eternally blessed One.
And therefore have mercy upon us
that through us
the written word will become a reality.
"And I will grant peace in the land,
and you shall lie down untroubled by anyone;
I will give the land respite from vicious beasts
and no sword shall cross your land." (Lev. 26:6)
"But let justice well up like water,
righteousness like an unfailing stream." (Amos.5:24)
"For the land shall be filled with devotion to Adonai
as water covers the sea." (Is. 11:9)
June 20, 2016 by Robbie Gringras
If I'm being honest, the main reason I chose to make aliya, was because in Israel I had a greater chance of getting a job that wouldn't require me to shave every day. (It was 20 years ago. Designer stubble wasn't fully respectable, and hipster beards were unheard of.)
So there are periods when I shave daily – mostly  when I'm feeling old and don't want all my white tufts to show – and there are periods where I can go a whole week without shaving. I am a crazy wild man, I know.
Yet while the informality of life in Israel perhaps grants me more freedom than I might have in the UK, it does not free me from being misunderstood in at least four different ways.
First, living in a majority Jewish land means that when anyone sees you are unshaven, their first instinct is to wish you long life. They sympathetically assume that you are in mourning, and so that haggard unshaven look is nothing to do with a hangover (or your advancing age) but only due to a loss in the family. When I dispel their side-angled-head with a "nah, I just couldn't be bothered shaving", they look somewhat disappointed.
Second, it is always dangerous to go unshaven between Pesach and Shavuot. It confuses people. They don't understand why it is that I am strictly observing the counting of the Omer, and yet have no kippah on my head. One year I decided to tell people that I was indeed keeping the Omer, and went weeks without a shave. Got a lovely bush going. But then I forgot to shave it come Shavuot and all hell broke loose.
Of course, here in Israel, a man with dark hair and a scraggy beard may well be a terrorist. Most Muslim men in Israel go for the stubbly look, and racial profiling is nothing if not racially predictable in its predictions. My chances of getting double-checked at the entrance to a shopping mall if I'm unshaven rise exponentially with every morning I don't put razor to face.
And finally, if we're talking hirsute cliches, I have learned always to shave before getting on a plane. I'll never forget the time I was stopped by a plain-clothed policeman at Ben Gurion airport. A scruffy-looking bloke in a short coat, unshaven and sneaky-looking, took one look at my three days' growth and made a beeline for me. He identified himself to me as a policeman, showed me his badge, and then asked me, in an unshaven sneaky kind of way, "You got any drugs on you?"
It was kind of surreal. As if a) people hawk their razor blades for drugs, and b) lack of shaving makes you stupid. I told him, honestly yet perplexedly, that I didn't have any drugs on me. And he came back with the classic: "Maybe we should take you off to search you. What do you think? You're looking nervous. Why are you nervous?" Which of course suddenly made me feel nervous. After a stressful few moments, in the end I 'fessed up. I told him he was welcome to search me, but all he would find was a few unused razor blades. "Sorry mate," I said in my best Hebrew, "I'm not a drug-dealer. I just haven't shaved recently."
He put his head at a commiserating angle, and said disappointedly, "Ah, I'm so sorry. Death in the family? I wish you long life."
June 9, 2016 by Yonatan Ariel
Identity is both given and chosen: it is given in that one's choices are not unlimited and it is chosen in that there are multiple groups and ideas to which one subscribes. Identity is gender, profession, religion, ethnicity, and nation among others. What pulls these together is a story or a narrative. Groups need a narrative to justify who and what they are, because they do not want to perceive themselves as either totally eclectic or as totally self-serving. We want the stability provided by the anchor of story.
Yet narratives change; they are 'puncturable', and we sense their fragility in the modern history of the Jewish People. Let's think of the Zionist narrative – on my teenage Israel experience there was no more poignant moment than when we visited the 'magic mountain' of Masada, exploring the story of heroism and the symbol of Jewish defiance and dignity, that we had heard so much about from when we were little children. Today, we go to Masada the tourist site and the tour guide relates: 'But you know, maybe they weren't heroes. Maybe the story happened in a different way.' The narrative is punctured the moment we ask: do we really want to view suicide as the embodiment of Jewish potential?
It goes deeper. Think about what Zionism represents – the contemporary realization of millennial Jewish longing for the ancestral homeland. And then recognize that one of the fastest-growing Jewish communities in the world today is in Germany. Germany! Put that in your Zionist pipe and smoke it! Can we just carry on? When there is compelling historical evidence, the narrative is undermined. Yet within the best, most exotic stories, and the Jewish story is certainly that, there is the power to rebuild, to reconstruct, to add and to change.
This Shavuot the festive celebration of receiving the Torah at Mount Sinai, I would like to remind myself that we would do well both to remember and to forget. Berl Katznelson taught us that: 'Were only memory to exist, then we would be crushed under its burden…And were we ruled entirely by forgetfulness, what place would there be for culture, science, self-consciousness and spiritual life?' Human beings are really good at both remembering and forgetting, although we sometimes get confused as to what should be in which category.
Eric Hobsbawm taught us that the 'authentic' Scottish kilt, which we suspect is an ancient tradition, only achieved widespread use as a result of an enterprising English businessman in the eighteenth century. This should give us heart. We can rewrite the lachrymose view of history, that Jewish life is an ongoing tale of woe, into a creative narrative that gives purpose for the future. The key property will be truth-likeness, rather than truth as the historical record, and its promise is that a people can rebuild and invite us into an ongoing conversation of the many and varied stories that we will create.
Our tradition teaches us that we were all present at Mount Sinai for the receiving of the Torah, those of us then and all those yet to be born, which means us. A few years ago, in a heated debate in the Israeli Knesset the interlocutors pressed their respective claims with reference to the Torah. One secular member retorted to a dismissive claim of her right to quote Torah by declaring: "I too was present at Mount Sinai." And she continued, "even if it never happened". Chag Shavuot Sameach.
Jonny Ariel directs Makom – the Israel Education Lab of the Jewish Agency
June 1, 2016 by Alan Johnson
Professor Alan Johnson is Editor of Fathom and Senior Research Fellow at BICOM. He is an editorial board member of Dissent Magazine and Senior Research Associate of the Foreign Policy Centre.
First, Sean Matgamna
It was Sean Matgamna – or 'Rebbe Matgamna' as some in the Union of Jewish Students affectionately called this brilliant Irish intellectual and former Docker at the time – who woke me from my dogmatic One-State slumber in the mid-1980s. Sean was the leading theoretician of Socialist Organiser, the far-left entryist group I had been a member of since 1980. Out of a clear blue sky he walked in one day with a paper arguing that we should drop the demand for a 'democratic secular state' and embrace 'two states for two peoples.' After a long internal debate – the sophistication and seriousness of which I was never to find in academia – his arguments prevailed.
'It seems to me,' Matgamna wrote, 'that the terms of the only just solution of the Israeli-Palestinian conflict are clear and unmistakeable. Unless you think the interests of one side should be entirely sacrificed to the other – that is, unless you are either an Arab or an Israeli chauvinist – there is only one acceptable solution. Each nation should have self-determination in the territory where it is the majority. I understand that to mean, essentially, the 1967 border. There should be full equality for members of each nationality in the other's state. The secular democratic state necessarily involves replacing the Jewish state of Israel with another arrangement in which Jews will not have a state. The goal is not only to secure Palestinian rights by putting an end to Israeli rule in the Palestinian territories, but to deprive Israeli Jews of their national rights.'
Well, indeed. Obvious enough, you might think, but those ideas were a heresy on the far left at the time. And so we were heresy hunted.
'Zionists!' screamed Chris Harman, a leader of the Socialist Workers Party. The Workers Revolutionary Party even wrote that 'a powerful Zionist connection runs from the so-called left of the Labour Party right into the centre of Thatcher's government in Downing Street'. Armed with those ideas, and those enemies, we fought alongside UJS to prevent the far left drive to ban student Jewish Societies as 'Zionist' so 'racist'.
We worked closely with UJS inside the NUS and I was impressed by the Jews I met. I recall Adrian Cohen, after he was called an antisemitic name at an NUS conference, squaring up and threatening to bury his 'Jewish fist' in the guy's face. How could a Suedehead from North Shields not be impressed with that? It was our youth leader Jane Ashworth – who later set up the Engage website with another Matgamna boy, David Hirsh – who came up with the phrase 'cultural Zionists', to describe ourselves at the time.
Second, Leon Trotsky
I still revere the Old Man and bristle when people attack him in words that should really be reserved for his followers. His final words were read out at my wedding to Debbie, a Matgamna girl, by our children:
'Natasha has just come up to the window from the courtyard and opened it wider so that the air may enter more freely into my room. I can see the bright green strip of grass beneath the wall, and the clear blue sky above the wall, and sunlight everywhere. Life is beautiful. Let the future generations cleanse it of all evil, oppression, and violence and enjoy it to the full.'
And it was from Trotsky that I learned that the assimilationist approach of classical Marxism to the problem of antisemitism was wrong. A target of both Tsarist and Stalinist antisemitism himself, Trotsky understood antisemitism was no feudal hangover. He grasped the modernity of antisemitism. I read his searing account of the antisemitic pogroms of the 1905 Russian Revolution and his desperate and prescient warnings about Fascism. 'The next development of world reaction signifies with certainty the physical extermination of the Jews.' (emphasis in the original) he wrote, before his murder by the Stalinists in 1940.
As Enzo Traverso, an intellectual historian of Marxism and antisemitism, has put it, 'The rise of Nazism in Germany led the Russian revolutionary to a global revision of his approach to the Jewish Question' i.e. to the question of antisemitism. Though Trotsky never thought of himself as a Zionist – having faith in a World Socialist Revolution which we cannot, in good faith, still claim – he became convinced of the necessity of a national solution to the problem of radicalising antisemitism.
The Jews, Trotsky came to believe, have every right to live in a 'compact mass' as a nation. And nations, he wrote as far back as 1915, 'constitute an active and permanent factor of human culture. The nation will not only survive the current war, but also capitalism itself.' 'The Jewish nation' he said in 1937, 'will maintain itself for an entire epoch to come.'
Third, Isaac Deutscher
From Trotsky's biographer, the Polish socialist Isaac Deutscher, I learned that the Jewish state is not only a right but a necessity, and that to oppose its existence on the basis of abstract left-wing dogma is, literally, a matter of Jewish life and death:
I have, of course, long since abandoned my anti-Zionism, which was based on a confidence in the European labour movement, or, more broadly, in European society and civilisation, which that society and civilisation have not justified. If, instead of arguing against Zionism in the 1920s and 1930s I had urged European Jews to go to Palestine, I might have helped to save some of the lives that were later extinguished in Hitler's gas chambers.
For the remnants of European Jewry – is it only for them? – the Jewish State has become an historic necessity. It is also a living reality. Whatever their cleavages, grievances, and frustrations, the Jews of Israel are animated by a fresh and strong sense of nationhood and by a dogged determination to consolidate and strengthen their State by every means at their disposal. They also have the feeling – how well justified – that the 'civilised world', which in one way or another has the fate of European Jewry on its conscience, has no moral ground to stand on when it tries to sermonise or threaten Israel for any real or imaginary breaches of international commitments.
Fourth, the experience of teaching the Holocaust
A sustained engagement with antisemitism as a university teacher – deep reading in the texts, images, films, memoirs, and histories; sustained discussion with your students; the effort to write about antisemitism, in my case about the work of Primo Levi – produced this insight: our natures are mixed, capable of great good and great evil. In the words of the Auschwitz survivor Primo Levi, we are centaurs, a 'tangle of flesh and mind, of divine inspiration and dust'.
Then add this in: humanity, for reasons that do not concern us here, for no good reason, again and again, has selected the Jew as the scapegoat. More precisely, and with a smidgeon more hope, let us say that humanity has done so for millennia and is still doing so today, though we can allow ourselves the hope – as we may hope for the return of the Messiah – that humanity will not do so in the future.
But what we can't not know is that from time to time, in the words of Levi's favourite writer Dante, western civilisation takes leave of its senses and 'descends into hell with trumpets and drums'. And when it does, the Jews – not only, but above all, the Jews – need a state with ramparts and an IDF standing on those ramparts. At one level, my Zionism comes down to that brute fact.
Fifth, boys and girls in Jerusalem
Walking in Jerusalem one day I came upon Jewish children playing in a narrow street, the early evening sun warming the stone flags and lending their ringlets a glow. They were playing a game I could not understand, white shirts flapping, Kippahs in danger of falling off, one shriek chasing another. I had two thoughts. My first, as ever, was about Primo Levi. I was reminded that in play we adults can find again 'the savour of childhood, delicate and forgotten,' and that to enjoy play is rather 'like receiving, free of charge or almost, a rare and beautiful object.' A second thought then shadowed my first, a typical experience for anyone who has spent a lot of time reading about the Holocaust, let alone those who have a familial connection to the Shoah: other images and other shrieks from another time arrived unbidden.
In some indefinable way, my own Zionism was expressed at that moment, by that juxtaposition.
March 23, 2016 by Elisheva Kupferman
Purim reminds us to reach out to others, focus on what connects – rather than divides – us, and work to better the Jewish collective.
To Full Post
October 18, 2015 by Robbie Gringras
[Cross-posted with Times of Israel]
After this last week, walking through Jerusalem as if tiptoeing through a firing range, it was good to return home to the Galilee.
Here in the Galil, I am reminded that the old adage, "Don't sweat the small stuff!" doesn't always work in Israel. Quite the opposite. If I start worrying about the big picture, about the Palestinians, about the delicate social structure of multi-ethnic and multi-religious Israel, about ISIS and about Iran… It's not easy to find solutions or even comfort.
Today I sweated the small stuff.
Much better.
This morning my daughter and I picked up two elderly hitchers, a man and his wife. They had been picking olives on their land, and were returning home with buckets and plastic bags full.
It was tough.
The old lady enthusiastically pushed a gift of a bag of olives into my daughter's lap, giving her a careful and swift explanation as to how to turn them into oil.
We sweated.
For although my daughter's Arabic was good enough to work out how many days to soak the olives, and with what ingredients, one word – accompanied by vigorous hand-gestures – evaded her. We parted with many thanks but no idea as to the key action required for the oil. It wasn't until we reached a good internet connection that we discovered that she had instructed us to shake the bag of soaked olives, and not to crush them. Same kind of gesture…
It was touch and go for a while, but we made it through.
Then this afternoon we went for food. My brother had come to visit from the UK after a short academic conference in Israel. They'd been culinarily so spoiled during the conference that he was desperate for a falafel. We went to my old haunt. Two Arab guys from Dir El Assad, working from the old center of Karmiel. They were happy to see me, and were very gracious to my brother, until one of them found out that we hailed from Manchester, England.
His face clouded over. My face clouded over. We sweated.
For him to meet two fans of Manchester United soccer club, when he was a passionate fan of Bayern Munich (a team Manchester United had famously beaten in the 1999 European Cup Final), was very difficult for him. The bitterness of a historical defeat hung painfully between us as we sat, munching into tahini-soaked falafel in the heart of the Galilee.
He and I still giggled a lot and had a hug goodbye, but it was close.
Back home on Tuval, my brother and I faced the final test. Sitting in the visitor's center of Jonny Stern, tasting his boutique wines. The grapes had been picked from Tuval's fields, the wines had won awards throughout the world, and we were in a bind. Which wine to choose for tonight's Friday night meal, when every single wine we tasted had won some Golden Cluster award from some wine festival around the world?
We sweated.
We sweated the small stuff all day.
It felt good.
(We plumped for the Cabernet Sauvignon Reserve…)
September 13, 2015 by Robbie Gringras
I'll admit that there has been little leading up to Rosh Hashana that leaves me looking forward to the New Year. The extremities of Climate Change, the extremities of Middle Eastern conflicts, the extremities of poverty, refugees, and public discourse.
And then, galloping in on its White Horse, Israeli popular culture comes to lift me up once more. I have been translating Israeli popular music for over a decade now, but today I celebrate the fact that Israel's Song of the Year is untranslatable.
The song "Sweet when I am Bitter" is such a delightful reggae swing through the cutest of Hebrew word play, that it is no wonder it won the listeners' award on top radio station Galgalatz.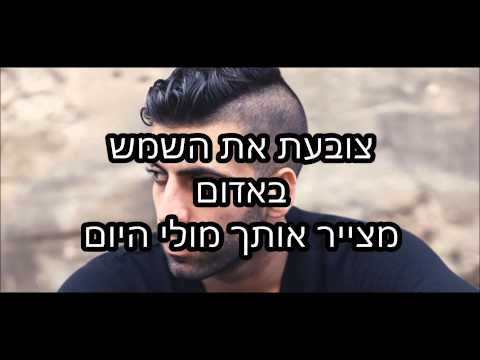 Throughout the song, Eliad Nachum strings together a hidden list of top music stars, like a musical word puzzle of Israeli popular culture. The chorus in particular is a delight.
A direct English translation would have you understand that Eliad is praising his girlfriend while referring to a friend of theirs called Bob: "You create sweetness like Bob, when I am bitter." But the word "bitter" in Hebrew is "Mar", and "Li" indicates the bitterness is mine. In this way we can hear that the Hebrew is hiding the iconic reggae star: "BOB, ksheMARLEY"
As well as playing with pop stars, Eliad touches on the bible, too. "Just tell me, and I'll run into the (lions') den" he proclaims. But while referencing the Book of Daniel, he also gently plants a tribute to beloved performer Gidi Gov: "Rak taGIDI ve'arutz el toch haGOV"
The whole song pays tribute to HaDag Nachash, Eyal Golan, Dudu Tasa, Nomi Shemer, and many more.
I could have done one of Makom's standard video translations, but more would have been lost than captured.
I think this is cause for celebration.
Hebrew culture has now reached such a thickness that even the hit parade is too dense to be easily translated.
Shana Tova!
August 26, 2015 by Liora Goldberg
First appeared on Yediot – the Online Magazine for Bnei Akiva, UK.
In order to respond to embedded questions, hover over the text in bold.
When you've been fed one narrative your whole life, the prospect of experiencing another is both daunting and enticing at the same time. When my dad suggested that he and I spend our daddy-daughter day out on a Palestinian tour of Hebron and Ramallah, I laughed, but agreed straight away. To Full Post
June 24, 2015 by Yonatan Ariel
Yonatan Ariel, Executive Director of Makom, gave this eulogy at the Global Jewish Forum of the Jewish Agency for Israel on Wednesday morning, June 24th 2015. It has been a year since Rami passed.
Rami Wernik passed away last Erev Shabbat from cancer. He was 46 years old. He served as the North American Director of Makom and was a dear friend and colleague.
Rami is the son of Rabbi Joe and Miriam Wernik – with Joe known to many here, as he served on this Board for numerous years. Rami leaves them, his sister Idit, his wife Kim and his two children Zohar and Dvir to whom he gave his all.  And an astonishing array of friends, colleagues and admirers, including his children's mother, stellar Jewish educators on three continents, and an avalanche of students touched by his gentle and stunningly modest spirit.
We would like to dedicate this Global Jewish Forum to Rami's memory – here's why.
Rami – I tried, and failed, to get you to work with me at Melitz. But I kept my eyes on the prize. When we met up again whilst you were a Mandel Jerusalem Fellow we had a series of rolling conversations about life, the Jews, education and the world. You have been a charming partner ever since. The exquisite devotion you pay to your thoughts before they emerge as words, the compelling and inviting attention that you offer to any conversant, and the rigor with which you challenge ideas before you take them inside are just wonders to behold.
Avraham, our patriarch, was a revolutionary, smashing the idols of his time. In our day, when in the midst of the blogosphere and the twitterverse we are stifled and suffocated by the clamour to make a deafening noise, and more-so in strident tones, then discreet, charming Rami stood out as a superb listener. He gave the most generous reading possible of any poorly expressed thought, gently enabling the other to be at their best, not trashing them for being their worst. Avraham Wernik, like his namesake, was a revolutionary for our times too.
So when you came to work at Makom, my heart thrilled. The purposefulness, the resolve to succeed in an honest way, and the spirit of fun and adventure that you displayed was magical.
For years I have called you by a nickname: Rambo. It always struck me as a delicious and judicious choice because of its incongruity. Rambo is the bulked up, physically aggressive drifter, lunging and wandering hopelessly. Contrast that with you as the smart, sensitive, handsome caring man with loyal anchors in so many areas of your rich life. Yet the determination with which you chose Jewish education as your profession and your knowledge, passion and skills for philosophy and its applications to real life is what it takes to be an elite craftsman in the education 'A' team. You prepared meticulously, designed passionately, and interacted delicately – with an abundance of care for your pedigree, your peers, and your participants. What an honor to be with such gifts.
Rami was the quintessential value-driven educator committed to and loving Israel and the Jewish People.
He was a true bi-lingual, bi-cultural talent. He spoke Jewish and Western with gusto. He grew up in Israel and having survived Hodgkins disease he was educated both in the US (JTS-Columbia, Harvard and Stanford and as a Wexner Fellow), and in Israel (Hebrew University and as a Mandel Jerusalem Fellow). He was a wonderful professional and an influential figure at Melitz, Mercaz Herzl, Camp Ramah, the Brandeis-Bardin Institute in California, the American Jewish University and has for the last several years directed Makom's programs in North America, travelling the continent to cultivate and teach the embodiment of Klal Yisrael.
Leah Goldberg captures Rami's bi-focal commitment in her poem Oren – Pine. The last two verses read:
אולי רק ציפורי-מסע יודעות
כשהן תלויות בין ארץ ושמיים
את זה הכאב של שתי המולדות.

אתכם אני נשתלתי פעמיים,
אתכם אני צמחתי, אורנים,
ושרשיי בשני נופים שונים

Perhaps only migrating birds know –
suspended between earth and sky –
the heartache of two homelands.

With you I was transplanted twice, oh my pine trees
with you, I branched into myself and grew –
And so my roots are in two disparate landscapes.
As Jon Levisohn his friend and co-conspirator in philosophy of Jewish education wrote:
"Rami was kind, compassionate, honest, funny, and so smart. Never naive, but never a cynic. If you ever had a conversation with him about Israel, you know what it sounds like to care so deeply that your critique is, genuinely, self-critique... He radiated warmth and kindness. He's the kind of person who deflated ego just by his presence."
Our tradition teaches us:
עשה לך רב, וקנה לך חבר, והוי דן את כל האדם לכף זכות

(משנה, מסכת אבות, פרק א', משנה ו').

Find a teacher and acquire a friend, and judge each person with merit.
My experience with Rami was that the order was reversed. First you found a friend, and then slowly, elegantly, he would peel the layers of his wisdom and offer them graciously for your consideration.
This is the distilled essence of what I have learned from Rami:
Care and be curious about generations – those before you, those alongside you, and those after you.
Practice listening, and learn how to disagree without being disagreeable. Let your ears trump your mouth.
Think before you speak. Think fast, but think first.
Find work that you believe in, that you can devote your whole self to.
Eat nuts, fruit and dark chocolate every day.
Make and nurture wise, happy and caring friends.
And that is why this Global Jewish Forum is dedicated to Rami z"l.
With tears in our hearts we remember a gifted educator, a deep thinker, a great team member and an all-round mensch. We are all going to sense the palpable absence of his warmth, intelligence, and moral compass. We will miss him terribly. With every good wish for the journey onwards.
יהי זכרו ברוך May his memory be for a blessing.
April 2, 2015 by Makom
[Also appeared on Times of Israel]
It all started with the Exodus from Egypt. That was the moment when the Children of Israel asked themselves four fundamental questions, and answered them with remarkable unity.
Nowadays, hearing about ad hominem attacks in the community, deep splits over Israel's path, and divides within Israel itself, unity is the very last word that comes to mind. It might be that this Pesach we may find the comfort of solidarity through sharing the same four common questions, even if our answers now differ radically.
The story of the Exodus can be summarized with four Hebrew words that translate as: "To Be a People, Free In Our Land." (When you think about it, it kind of makes sense that the Exodus story has a Zionist flavor!) These four words, that now live as the penultimate line of Israel's Hatikvah anthem, also played out then, as now, in the form of four timeless questions.
In Egypt the Children of Israel were facing existential questions of a life in slavery (To Be?), struggling with a newly-embraced  collective identity as a People and not just a fractious extended family (People?), exploring freedom from slavery and the freedom to commit (Free?), and setting off for the Land of Israel (In Our Land?) – and in following Moses across the Red Sea, the Children of Israel released the Four Hatikvah Questions into Jewish consciousness.
As we sit around our Seder night tables this Pesach, in addition to the traditional four questions sung by our youngest, we may be able to make out this additional set of Four Hatikvah Questions making their presence felt.
These are no longer the days of miracles. We can no longer expect consensus on the answers we each reach. But there is deep value in sharing questions about Israel in our lives.
To Be?
What is the best way to ensure our survival? How can we best assess what threatens us, and how might we best neutralize these threats? (When) can we chill out and just "be"?
(Jewish) People?
What makes us a collective? How should our religion, tradition, and faith play out in our lives? What value should we place on unity and solidarity among Jews, if it risks distancing us from others? In what way should our Jewish values of justice, and tikkun, drive our collective actions and thoughts?
Free?
How should the Jewish People innovate, create, and renew? What democratic structures and norms are required within Jewish communities and within the Jewish State? How can they enable us to freely choose how decisions are taken and implemented? How do we resolve the tension between "freedom" on the one hand and a commitment to the collective of the "People" on the other hand?
In Our Land?
Is Land important? When we talk of "our" Land, do we use the possessive pronoun as we would when we refer to "our apartment" or "our car"? Or is the pronoun more about identity: "Our Land" like "our family", "our friends"? Must we be and live "in" our Land, in order for it to be truly "ours", or can we be anywhere in the world?
When we argue about Israel, we are reviving the ancient tensions between the four questions – two universal, two particular – that walked with us through the desert from Egypt to Canaan, and continue to challenge us to this day.
May we all reach the harmony of our own ongoing answers, and may we continue to ask the questions of ourselves and of others in love and respect.
חג שמח
[Illustrations commissioned by Makom from Shay Charka]]